Atlanta Area Parks with Outside Bocce Ball Courts
Bocce Ball (aka Lawn Bowling) is a fun game that has been around for centuries and can be played by all ages. It has gained popularity in Atlanta over the last few years, with multiple bars and restaurants setting up courts and organized social leagues.
Unfortunately, due to the current COVID situation, many of the usual avenues to play bocce are on hold or limited. No worries, we found public parks around Atlanta that have outdoor bocce courts. They are open, they are free, and you can find the details below.
This post contains affiliate links. As an Amazon Associate, if you click through and make a purchase, we earn a small commission (at no additional cost to you). Thanks for your support, this helps us discover more.
From our discoveries, most courts do not have bocce balls. If you are looking for a set, here are some good choices from Amazon:
Address: 1320 Monroe Drive, Atlanta, GA 30306
Located in Midtown, Piedmont Park offers two well-maintained bocce courts. They are available on a first-come, first-serve basis unless previously reserved (no reservations allowed on Fridays). You can find them at the center of the park near the Leaders Grove Arbor and basketball courts. (see map for visual)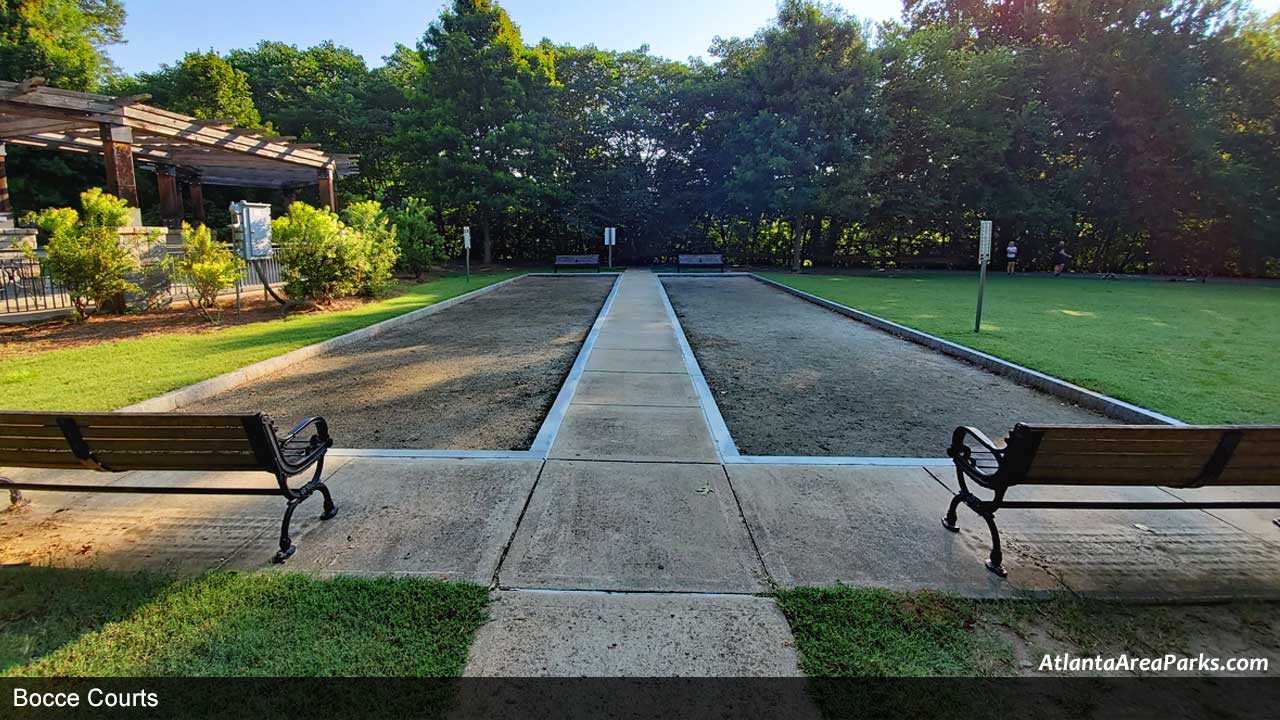 Seating – A bench is available on both ends of each court.
Parking – The paid parking deck is the closest parking option, and you can access the park from the lowest level. Street parking or Marta are other alternatives but require more walking. See here for more information about parking and directions.
Bathrooms – The closest option is beneath Magnolia Hall, not far from the courts. Additional restrooms throughout the park.
Check out court rules and reservations
Address: 135 Chastain Park Ave NW, Atlanta, GA 30342
Hours: 6:00 am to 11:00 pm
Located in Buckhead, this park recently added two courts in the fall of 2019. These brand new courts are fully shaded by mature trees, perfect for those sunny days. You can find them in the green space between the Arts Center and the playground.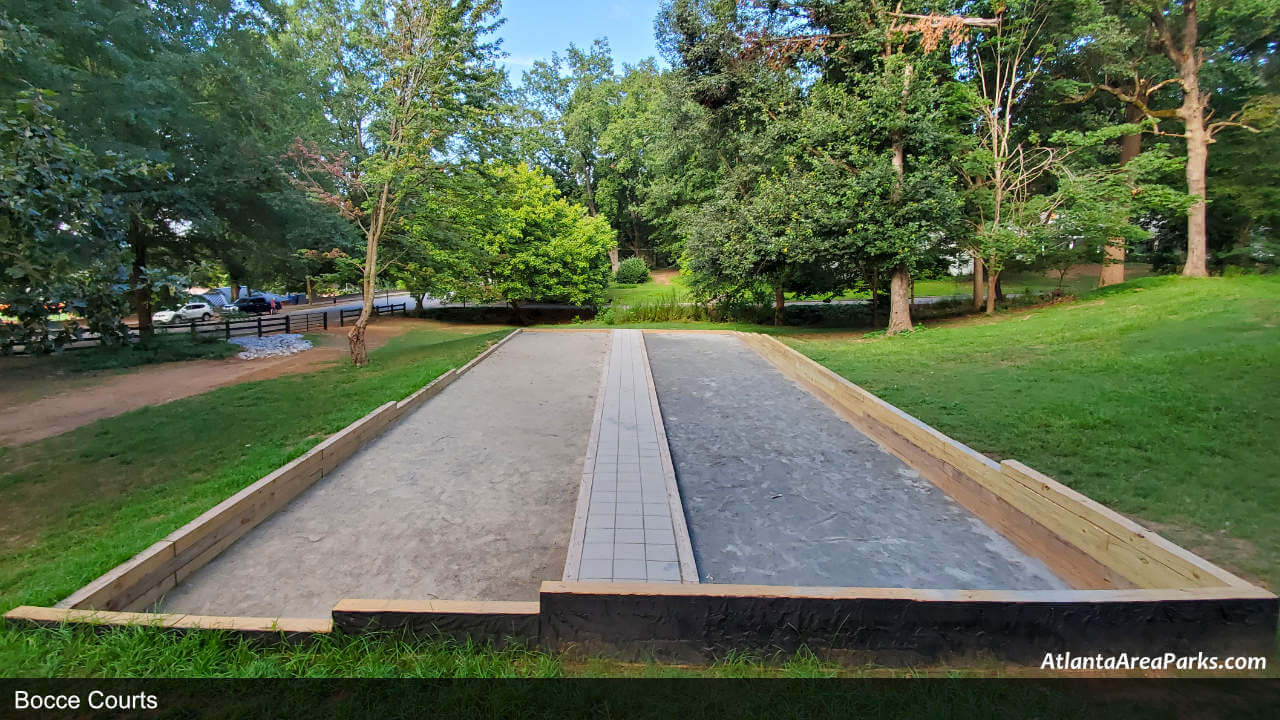 Seating – One bench is shared between the two courts, so bring chairs if you would like to sit.
Parking – The closest option is street parking along Chastain Park Ave NW. You can also park at the playground on Chastain Memorial Pkwy. (walk downhill to the courts)
Bathrooms – The closest is next to the playground.
If you find yourself at a park with limited seating, this portable tripod chair is great to have a seat anywhere.
Address: 4400 Dunwoody Park, Dunwoody, GA 30338
Hours: 7:00 am to Sunset
Located in Dunwoody, this park has two bocce courts at Central Square with parking only a few paces away. There are two sections to this park, Central Square and the playground. If you enter by the playground, continue down Kent Road to get to the Square. These courts are on a first-come-first-serve basis.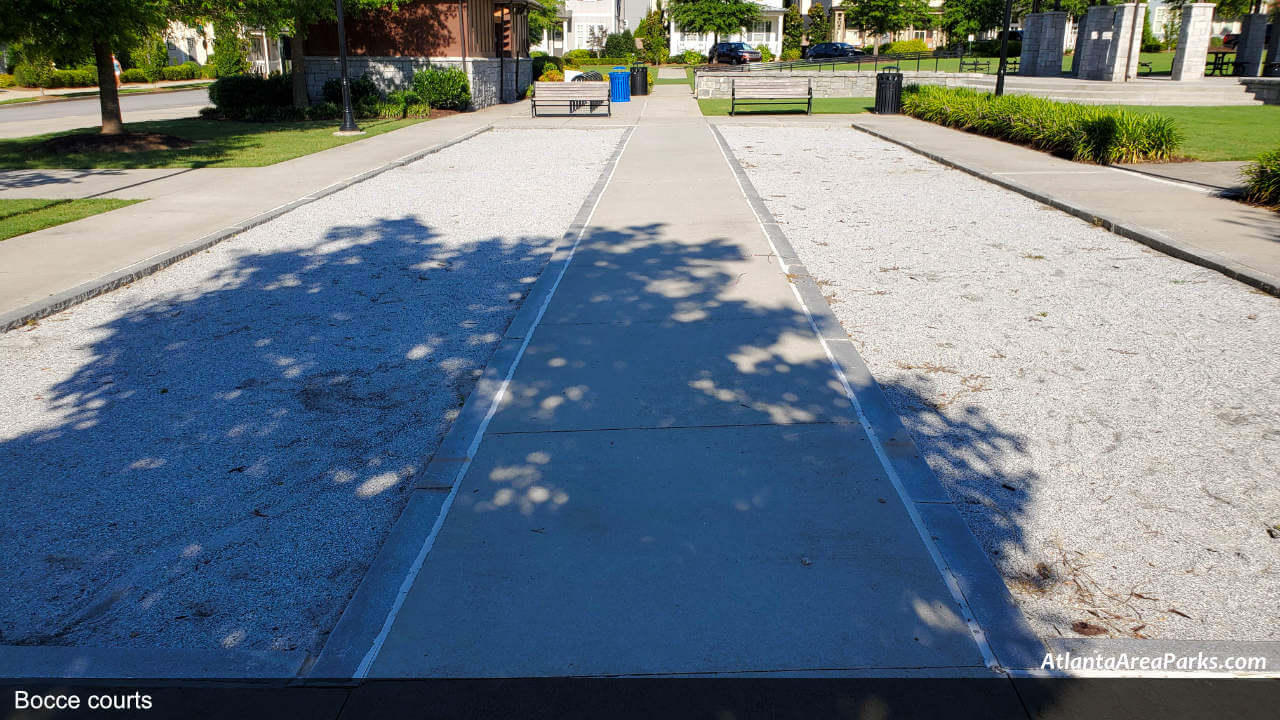 Seating – A bench is available on both ends of each court.
Parking – Is available around the Square with additional spaces near the playground.
Bathrooms – Located next to the courts. (literally steps away!)
Address: Spad Ave. at Wales Ave, Atlanta, GA 30318
Hours: 6 am to 11 pm
Located in West Atlanta, this park offers one bocce court shaded by the surrounding forest. Since trees cover this court, there can be fallen leaves and weeds (adding an exciting component to the competition).  You can find it behind the historic Carpenter's Shed and next to the playground.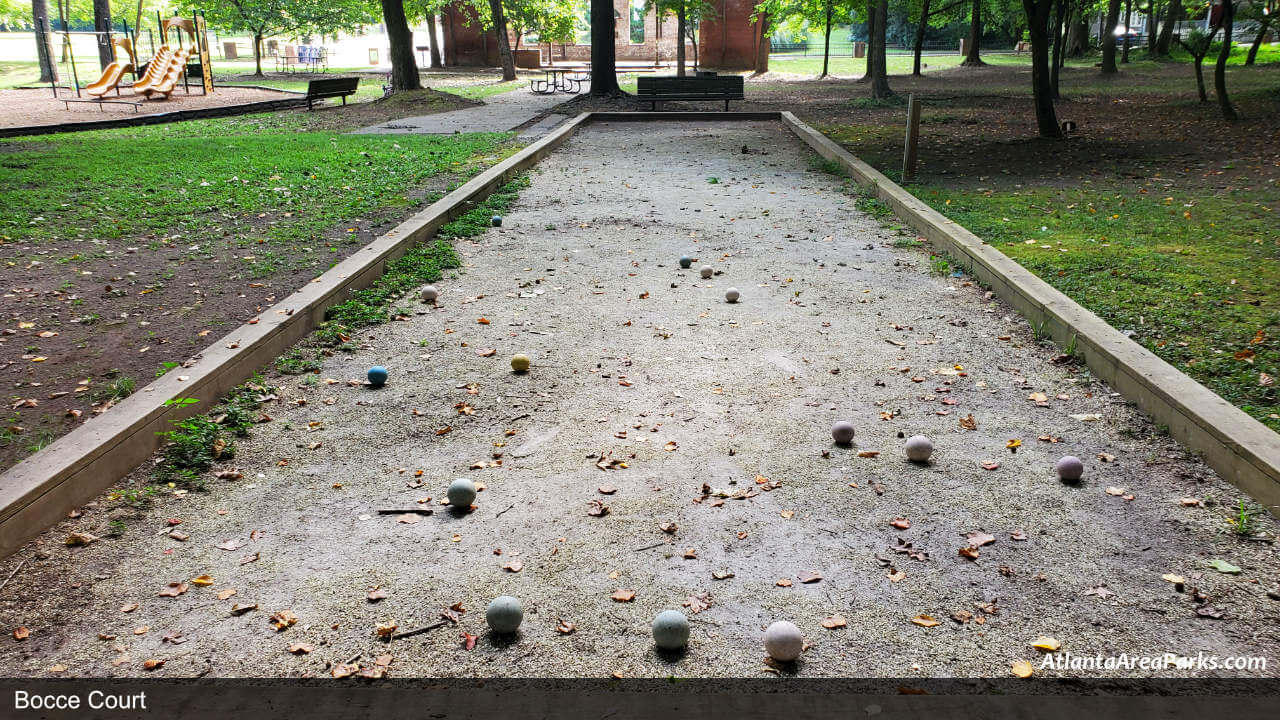 Seating – One bench next to the court and multiple picnic tables nearby.
Bathrooms – NONE (plan accordingly)
Parking – Street parking is alongside the park.
If you go and visit any of these parks, please leave us a comment below.
Have fun discovering!